World Food Day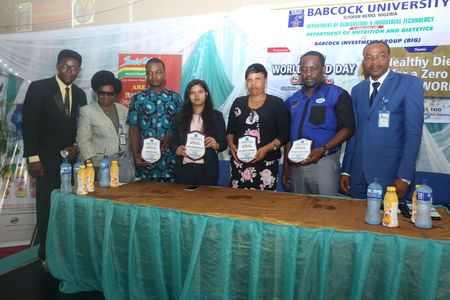 [Photo: A cross section of awardees with Head of Department of Agriculture, Dr. Kehinde Oyekale (left), Prof. Dora Akinboye (2nd left) and Prof. Cyril Nwangburuka (right).]

Babcock lent its voice to solutions to end global hunger as it hosted the 3rd edition of the World Food Day.
President/Vice Chancellor, Professor Ademola S. Tayo, noted that food was so critical to human survival that its absence would bring the world to its knees.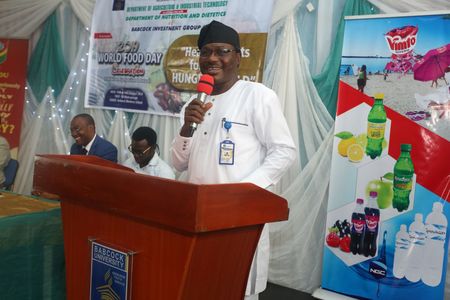 [Photo: Prof. Sunday Owolabi]
Professor Tayo who was represented by the Deputy Vice Chancellor Management Services, Professor Sunday Owolabi, said it was in recognition of this and the role of the Department of Agriculture in ending global hunger, that the administration offered rebate in tuition in that course.
Meanwhile in his paper, New Approach to Addressing Hunger, guest speaker and expert in Agriculture, Dr Oluwatoyin Leshi said the severity of hunger in the country had created a situation whereby a majority only ate for survival.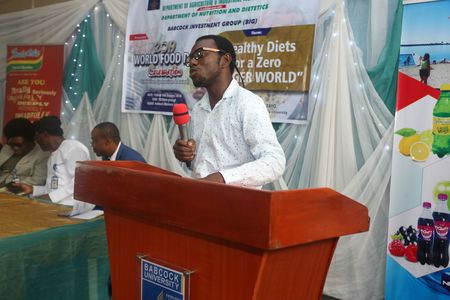 [Photo: Guest Speaker, Dr. Oluwatoyin Leshi]
He said contrary to the Agricultural Minister's position that there was no hunger in the land, hidden hunger had reached alarming proportions nationwide that it deserved more than a casual consideration.
Quoting statistics from the Global Hunger Index, Dr Leshi said 40% of children were malnourished because they lacked access to food.
According to him, while 821 million of the world population do not have enough to eat, one out of nine people go to bed without food. /span>
  "We closed our borders without being prepared for it," he said. "China and India prepared for it before closing their borders for 20 years. I am not sure we prepare for it. The price of rice, a staple food in Nigeria now sells between N20,000 and N24,000."
He recommended an innovative, multi-dimensional, multi-actor and multi-sectoral solution to global hunger. This also entailed a global food system equipped to produce better nutritional outcome through building capacity in food system and research among others.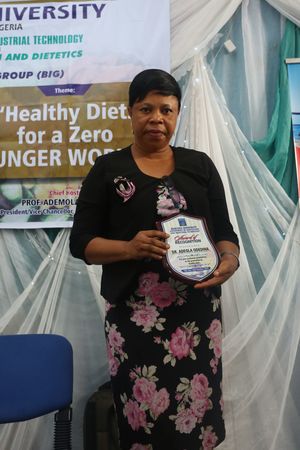 [Photo: Representative of an Awardee, Dr. Adeola Odedina ]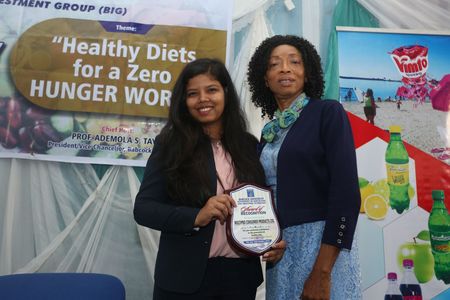 [Photo: Prof. Yetunde Makinde presents Award of Recognition to Multipro Consumer Products' representative.]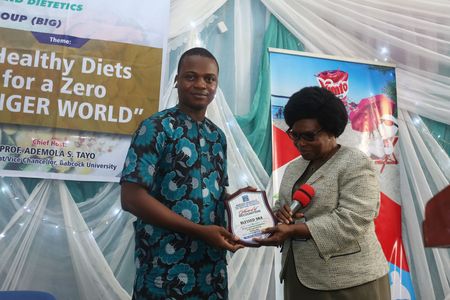 [Photo: Prof. Dora Akinboye presents Award of Recognition to Blessed 9RA representative. ]
Beside the lecture, the World Food Day featured exhibition and award presentation. Among the exhibitors were Animal Care, Dufil, Farm Pride and Wamco while the awardees included Dr Samson Odediran, Blessed Naira, Nia Foods and Drinks and Multipro Company.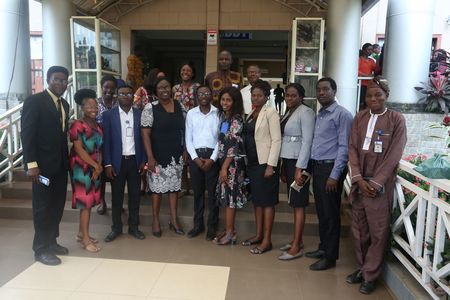 [Photo: Fight to end global hunger: Guest speaker, Dr. Oluwatoyin Leshi, (4th left) with staff and students of the Department of Agriculture as BU hosted the World Food Day, October 16. ]


Ms. Josephine Akarue,
Directeur Adjoin, Departement de la Communication.