Great Year-End meeting 2019 of the West-Central Africa Division of the Seventh-day Adventist Church.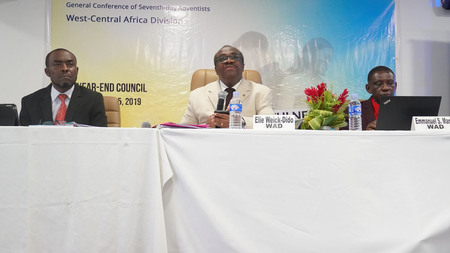 [Photo - Ouattara H.: WAD Administrators]

For the last Year-End meeting before the next General Conference Session of the Seventh-day Adventist Church worldwide in late June and early July 2020, the West-Central Africa Division leaders chose Abidjan for their gathering in order to evaluate their activities.
Nearly eighty leaders and delegates from the General Conference, Unions and the Division institutions met in Abidjan, Côte d'Ivoire at Hotel Le Vaisseau from 3-5 November to discuss progress related issues to the Mission the Lord has given them.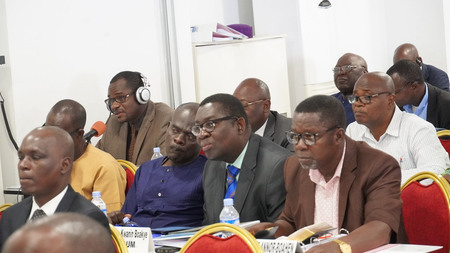 [Photo - Ouattara H.: Participants]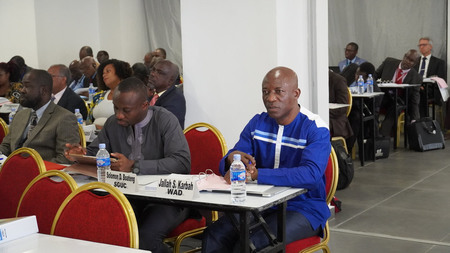 [Photo - Ouattara H.: Participants]
Before talking about reports, planning and other topics that are the focus for this Year-End meeting, the President of the General conference, Pastor Ted Wilson invited each participant to honor the call he/she received from the Lord and that made him/her the keeper of a world in perpetual degradation. For him, the meaning of this meeting is to understand the mission in which everyone has a role to play and that is to win souls for Christ. From Ephesians 2: 8-10, Pastor Ted urged the delegates to more consecration and determination. "We are saved to do the will of God. The biggest sermon ever heard, is the one we live" he declared. He also said that the time was no longer, for sermons that are amusing and that are just simple stories that some tell. Every sermon should invite the people to abandon their sin and work for their salvation.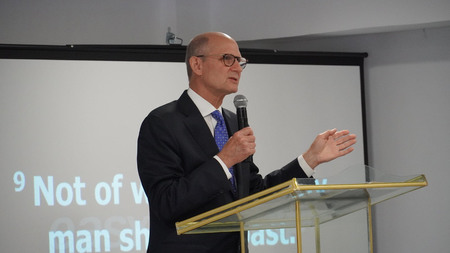 [Photo - Ouattara H.: Pastor Ted Wilson - GC President]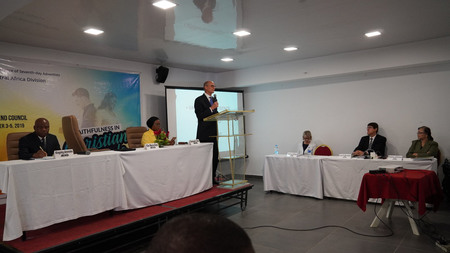 [Photo - Ouattara H.: Pastor Ted Wilson preaching]

The activities that started on the 3rd and ended on November 6, 2019, allowed the various delegates to present their reports. All the reports were satisfactory despite some difficulties experienced in areas where terrorists are making life hard for the population.
During this meeting, the book of the year 2020 was presented to the delegates. Pastor Obaya, director of the Publishing Ministries of Division urged each Union President and Institutional Head to make every effort to take part in the distribution of this book titled "Hope Beyond Tomorrow", which will take place on April 18, 2020.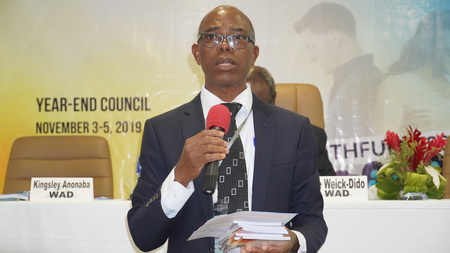 [Photo - Ouattara H.: Pastor Obaya Dada]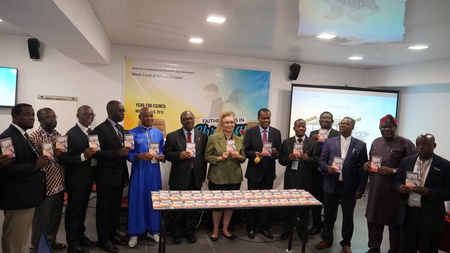 [Photo - Ouattara H.: Presentation of the Book of the Year 2020 by Church Leaders.]
In attendance were, Pastor Ted Wilson, President of the General Conference, Pastor Geoffrey G. Mbwana, Vice President of the General Conference, Gerson P. Dos Santos, Daisy Orion, Alexis LIaguno, Ray St. Herbert Allen, Christian Molke and many others. In addition to these guests, were also present, Pastor Elie Weick, President of the Division and his collaborators Pastor Kingsley Ononaba and Pastor Emmanuel Manu, Executive Secretary and Treasurer, alongside with Union Presidents and Institutional Heads with Division departmental Directors.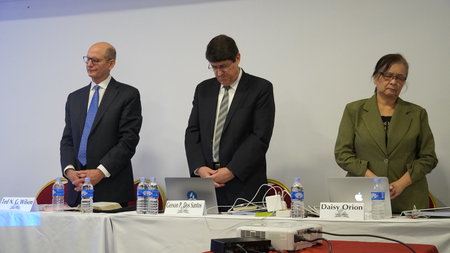 [Photo - Ouattara H.: GC Leaders (L-R): Ps. Ted Wilson, Gerson P. Dos Santos, Daisy Orion]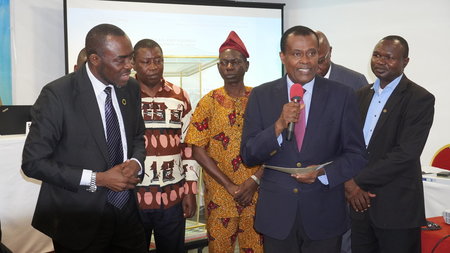 [Photo - Ouattara H.: Pastor Anonaba (Left) and Pastor Geoffrey G. Mbwana GC Vice-President (Right).]


WAD Editor