Year - End Meeting of the West-Central Africa Division, November 3-5, 2019.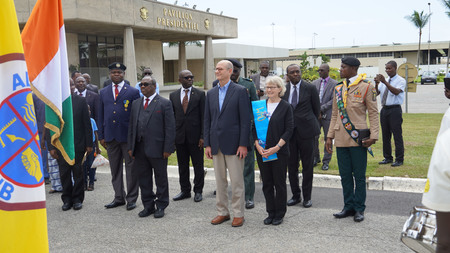 [Photo: Pastor Ted Wilson and his wife received by Adventist Youth]

As a prelude to the Year-End meeting, which is the last of its kind before the general elections of the World Church, the Division received Pastor Ted Wilson, President of the General Conference of the Seventh-day Adventist Church.
It was exactly 11:30 A.m. local time, when the Ethiopian Air Line plane landed at FHB International Airport in Abidjan, Côte d'Ivoire under a sky dominated by the sun.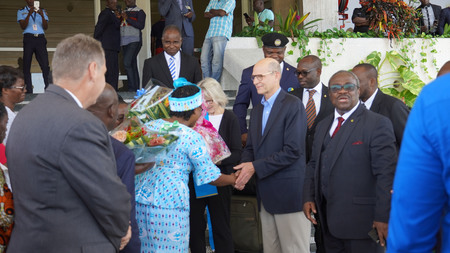 It was on the official side of the airport that Pastor Ted was received by the administrators of the Division, Presidents of Unions and Institutions and the majority of the delegates who came for this special meeting. As soon as Pastor Ted left within the airport compound after the usual formalities, he received the honors reserved to authorities of his rank. He then reviewed the Adventist Youth troops present for the occasion. After a short speech with members who came to welcome him, Pastor Ted went to the hotel accompanied by Pastor Weick, Pastor Anonaba and Pastor Manu, respectively President, Executive Secretary and Treasurer of the Division.

WAD Editor