The Adventist Women in COFACES IX Mode
CENTRAL-SOUTH CAMEROON (CSC): The Adventist Women in COFACES IX Mode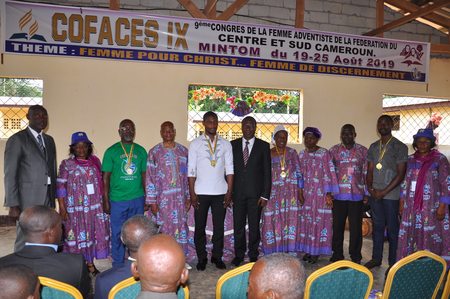 [Photo: Family photo]
The 9th edition of the Congress of Adventist Women in the Central-South Cameroon (abbreviated COFACES) took place from August 18 to 25, 2019 in Mintom, a Sub-division of the Dja and Lobo Division in the South.
Mintom is real enclaved area but more than 500 women braved the obstacle course that leads to that pretty country located more than 350 km from Yaounde. It is close to the border with Congo-Brazzaville. Only love for God can inspire such a move. The poor condition of the road between Sangmélima and Djoum did not discourage congresswomen from all over the CSC. The fatigue was legible at these late arrivals until the early hours of the morning.
The CSC president, Pastor Nko'o Mendouga Ferdinand said that "the particularity of this congress is the participation of distinguished guests: our friends the Pygmies". Indeed, nine couples of the Baka people, as they are supposed to be called, received special gifts after a community wedding organized by the local Adventist Church. The presence of the Divisional Officer who works very well with the Mayor of Mintom, Mrs. BEKONO AKETE ENDAMAN DIBOL, a committed Adventist, has enhanced the brilliance of this event. Both made their very moving speech during the opening ceremony at the esplanade of the Mintom city hall.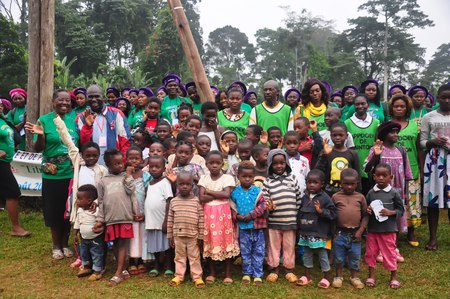 [Photo: MIFEM with orphans from Mintom]

The few days spent in the heart of this city of Mintom positively impacted the inhabitants. The women made donations to the orphans and marched to raise awareness about violence against women. They played football matches to spend time outside the Mintom Technical High School, which housed the congress.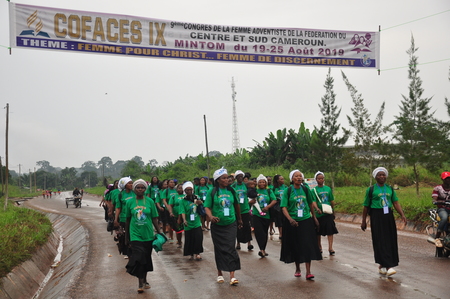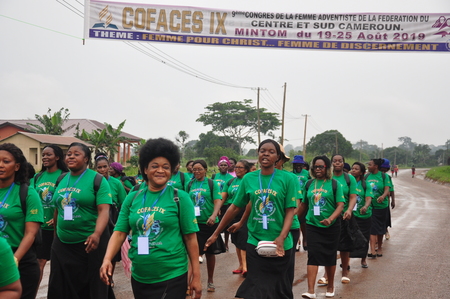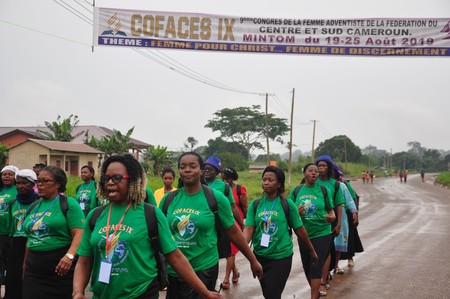 [Photo: parade ]


[Photo: Pastor Assembe]
As Rosalie Agone Essama, CSC of Women's Ministries (WM) Director would say, "Our theme, Women for Christ, Women of Discernment, reflects the desire to focus on listening to the divine teachings". They received the teachings through studies, workshops, and prayer sessions. Pastor Assembe Valère, president of the Seventh-day Adventist Church in Cameroon, led these moments of devotion. The soul ministry had a good place with the support from several pastors present at the congress. There were also about ten workshops on prayer, fasting, the silence of God, intercession, faith, praise and more.


[Photo: Gift to Baka family]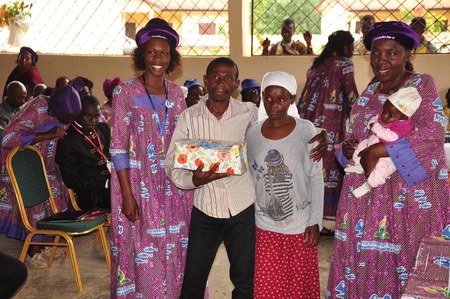 [Photo: Gift to Baka family]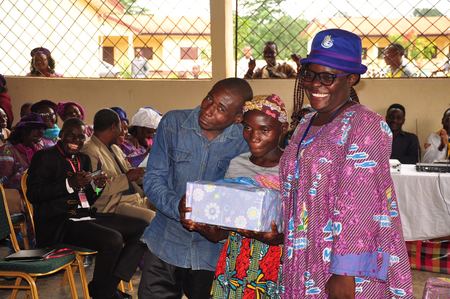 [Photo: Gift to Baka family]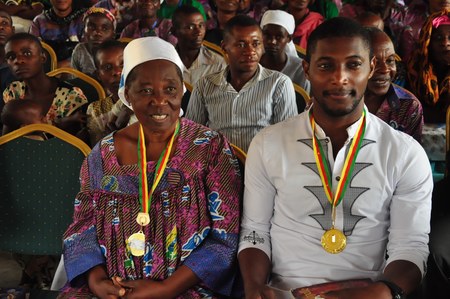 [Photo: Mayor and governor decorated]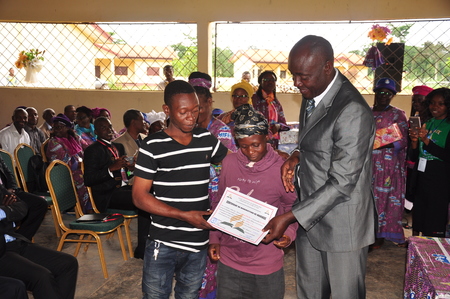 [Photo: Gift to Baka family ]
The teachings on discernment dealt among many other subjects with the sifting, the false prophets, the spiritual battle, the first love or listening to God. Health counseling, diabetes screenings and hepatitis, hands-on agriculture workshops also had a fair place in the program. All the city authorities attended the closing ceremony of the congress. They received medals and gifts from Adventist women. The Delegations were already thinking about the return. The valiant women had to push their vehicles out of the many quagmires on their way back home. They knew it was a passageway to the house, sweet home.
Abraham BAKARI
Cameroon