Dr Assam Assam Jean Paul is the New Acting Vice Chancellor.
UNIVERSITÉ ADVENTISTE COSENDAI (UAC): Dr Assam Assam Jean Paul is the New Acting Vice Chancellor.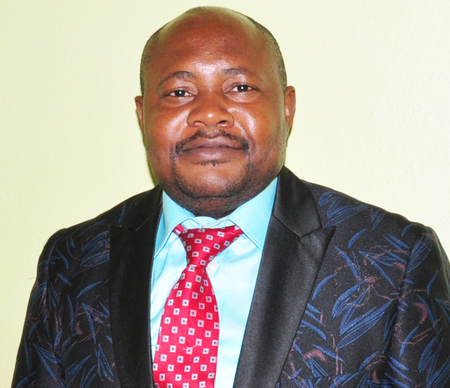 [Photo: Dr. Assam Assam]
The Board of Directors convened in extraordinary session appointed him on Monday, September 09, 2019 in Yaounde, at the headquarters of the Adventist Church in Cameroon.
The new Vice Chancellor served for more than ten years as lecturer in the University of Douala and Yaounde. He is the Health Ministries and Youth Ministries Director for the Cameroon Union Mission. He is a pure product of the University of Yaoundé I in Cameroon. After successful studies in Biochemistry in the Faculty of Science in the University of Yaoundé I, Dr Assam Assam Jean Paul entered the Faculty of Medicine and Biomedical Science with a Master of Science in the same University. He obtained his PhD and started a rich career of a researcher in various laboratories. His zeal for God's work has always guided his choices and he accepted the call to serve in the position.
During the meeting, new leaders were appointed and the staff redeployed. The executive committee of the Union had proceeded, a week before, to the setting up of the Board of Directors and the dissolution of the Commission appointed to manage the day-to-day affairs of this University. The new acting Vice Chancellor assumed the presidency of the said Commission, whose significant contribution was welcomed. A vote of thanks was taken for its members.
A working session with the Adventist Church administration in Cameroon took place in order to share the expectations in achieving the set objectives, the main one being the development and expansion of UAC. The new team is working to prepare for the next academic year beginning in early October 2019.
CENTRAL ADMINISTRATION
Acting Vice Chancellor : Dr. ASSAM ASSAM Jean Paul
Vice Chancellor in Charge of Academics: Dr. ESSO Jean Christian
Business Manager: M. AGABUS Bello Metenga
Treasurer: KOUASSOUA Félicité
Registrar: Mme LANDO Marie Noëlle
FACULTIES
Dean of the Faculty of Theology and Science of Education:
Dr. ESSO Jean Christian
Dean of the Faculty of Health Science, Technology and Innovation:
Dr. ASSAM ASSAM Jean Paul
Faculty of Management and Computer Science:  Central Administration
SERVICES
Students Affairs
Chief : ONYONG ASSAMBA
DIRECTORS OF CAMPUSES
Douala Campus : Dr. EYINGA Paul Marius
Maroua Campus: Focal Point – Mr. NDAVOUMTA Daniel
Yaoundé Campus: Central Administration
STAFF REDEPLOYMENT
Nanga Eboko Campus
Dr. NDAKI Claude – lecturer at the Faculty of Management and Computer Science (FMCS)
Mrs NDAKI Maryline –Accountant
Mr. BIZIMANA Félix –Accountant
Douala Campus
Dr. EYINGA Paul Marius –Director and Lecturer at the FMCS
Dr. IKITO Alain – Lecturer at the FMCS
Mme IKITO Chantal  - Lecturer at the FMCS and Cashier
Yaoundé Campus