CAMEROON: The Adventist Church donates 30 million FCFA.
CAMEROON - AID FOR INTERNALLY DISPLACED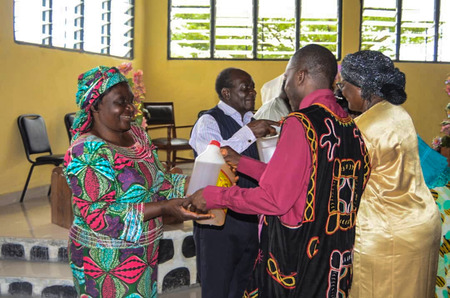 [Photo - Bakary A.: Internal Displaced Population happy to receive foodstuffs.]
The action is part of the emergency aid to the population victims of the Anglophone crisis. The symbolic gesture took place in Douala on Saturday, June 15, 2019.
 Nearly 30 million FCFA were collected to support the internally displaced people of the crisis that is tearing apart the regions of North-West and South-West of Cameroon. They fled burnt and abandoned villages and face many difficulties.
The resistance of the armed secessionists to the national defense and security forces makes the lives of the people of the North-West and South-West very difficult. The Adventist Church in Cameroon has set up a commission to respond to the needs of the victims of this crisis. Thus, institutions and members joined hands together and raised the amount of 30 million CFA of which 15 million is devoted to the needs of education and the other part to the food and fundamental needs of the internally displaced.
One of the beneficiaries in the Bamenda region, Musong John, praised the Seventh Day Adventist Church's love demonstrated in Cameroon: "I and my family are deeply touched by this gesture of brothers and sisters. I have five orphans living with my children. Taking care of all these people is not easy at this time of crisis. This assistance will make a lot of difference ", he said.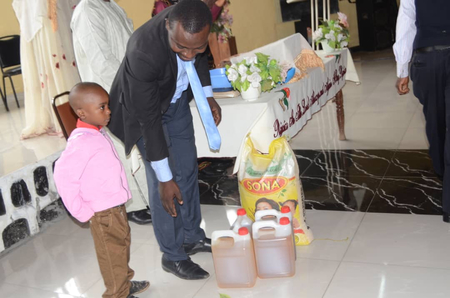 [Photo - Bakary A.: Orphans were not neglected during foodstuffs distribution]
 Returning from the donations to Bamenda, Pastor Njock David Vivian, head of the Adventist Church in Western Cameroon, acknowledged the impact of this crisis on the church's growth in the area: "Looking Church in Cameroon beeing mobilized to support brothers and sisters of North-West and South-West is quite comforting. I saw on the radiant faces the joy of belonging to such a big family. Thank you to the Cameroon Union Conference for this initiative and thank you to everyone who contributed. "
According to figures from the Office of the United Nations High Commissioner for Refugees (UNHCR), more than 400,000 internally displaced persons are victims of this crisis. The government challenging the numbers attests that there are about 158,000. Many Adventist communities are dismembered and abandoned. May peace be restored!
Abraham BAKARI