WAD Mid-Year meeting 2019, in Abidjan, Cote d'Ivoire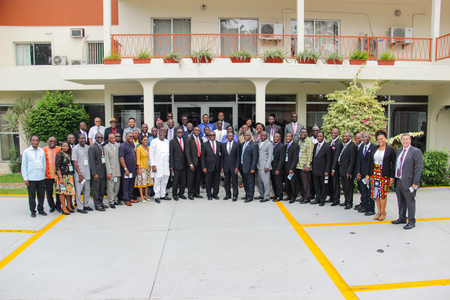 [Photo - Gustave B.: Family Photo - WAD Administrators and Unions Deleguates]

Under the motto "Faithfulness to His Prophets", 300 delegates gathered for the Mid-Year meeting in WAD headquarters, from April 6-7, 2019 in Abidjan, Côte d'Ivoire.

Pastor Elie Weick Dido, WAD President, in his opening address, welcomed all the participants, and encouraged them to work in unity to achieve the great commission of the Lord Jesus Christ.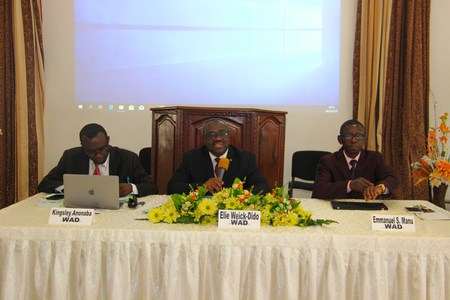 [Photo - Gustave B.: WAD Administrators]
All participants presented their different reports on which comments were made. After all the debates an observations, all agreed to labor for the Master and not for self. Out of the plans presented, decisions were made in order to improve on strategies in souls winning.
"We all gathered to join hands together, to contribute and make decisions on certain particular issues. This year, having considered all our subtopics, we made important resolutions that will certainly allow each of us to work for the Master, as it should be. Of course, we laid emphasises on evangelism and resolve to do better this year. From July 2015 till date, we have baptized 187000 people and we are planning to increase this number through the efforts of all by the special grace of God".
On the issue of the Year-End Meeting, Pastor Elie Weick, President of the Division assured us that "this Council will be held in Ndjamena, in Chad to celebrate with them their filthiest Anniversary in the presence of the GC President, Pastor Ted Wilson. It will also be a way out to support and encourage them as they are looking for ways to expend the Word of God in that country".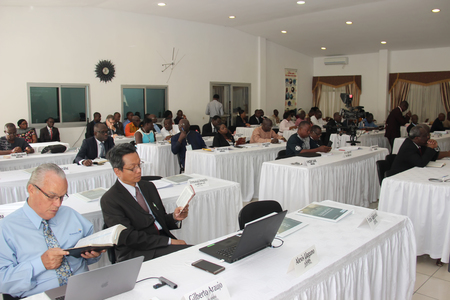 [Photo - Gustave B.: Participants]
By God's grace, the meeting went on successfully and gave room to exchanges that will lead to the growth of the Division in several areas. For the Executive Secretary, Pastor Kingsley Anonaba, this meeting was to evaluate the activities done so far at the Division level and in the various Unions, since the year began. "During this meeting we looked into our finances, in a critical way and made decisions that will move our strategic planning to target. It was a well-attended gathering and the deliberations were also good. Looking back to our records, we have every reasons to thank the Lord for what we have so far achieved. For you to move an organization forward, you need to educate and inform both leaders and the leds on the principles and policies that guide that entity, and that what we did in collaboration with the CG in Grand-Bassam here in Côte d'Ivoire in 2018 and in Accra, Ghana last year.       
Participants agreed that they all have to preach the good News of salvation in order to hasten the Lord Jesus' coming. May God be praised!
WAD Editors