RECRUITMENT OF STUDENT LEs FOR SUMMER WITNESSING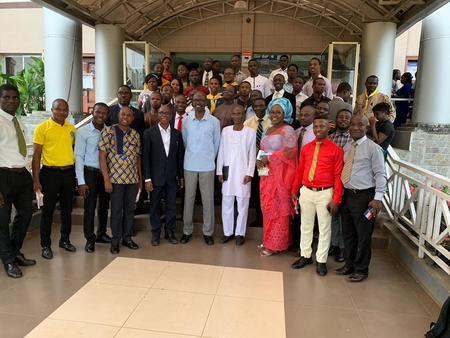 [Photo: Family picture]

The students were excited to welcome the publishing team into the Babcock University for 2019 Student Literature Evangelist Recruitment. The team members who arrived on the campus on Tuesday and Wednesday (12/13 March, 2019) comprised of the GC Associate Publishing Director, Pastor Stephen Apola, WAD PMD, and some Union and Conference PMDs from Ghana and Nigeria.
Publishing leaders had opportunity to promote and recruit Student Literature Evangelists (LEs) during Wednesday and Friday worship services. The University graciously gave the publishing leaders opportunity to preach and promote publishing during the divine service in almost all the worship centers on the campus.
The Sabbath afternoon was set aside to celebrate the success of student LEs who canvassed in 2018 summer. Awards were given to the best students in sales and leadership. Also, special testimonies were shared from the previous year's summer canvassing experience, as well as dedication of the new club executive members. The University president/Vice Chancellor, Prof. Tayo Ademola was present to encourage and boost the moral of the student LEs. The head of the University Spiritual Life, Pastor D. Audu was present to lend his support. Dr. Ngozi Okata who has served as the SALE Club Sponsor for three consecutive years also gave the students words of encouragement.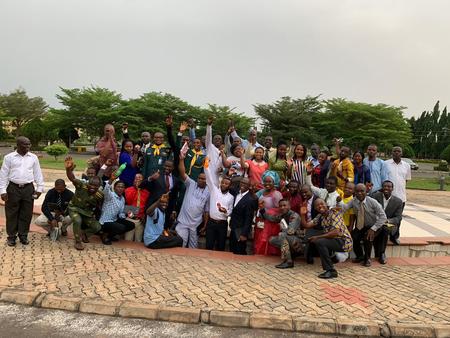 [Photo: Family picture]
The program rounded off on Sunday March 17, 2019 with special training sessions facilitated by Pastor S. Apola and other publishing leaders present. Union PMDs canvassed the students to labour in their various Unions come next summer. Join us in praying that God will bless the students with souls and sales during 2019 summer canvassing.
A. D. Obaya