LET YOUR CHARACTER INSPIRE UNITY- ADVENTIST LEADERS IN WEST AFRICA URGED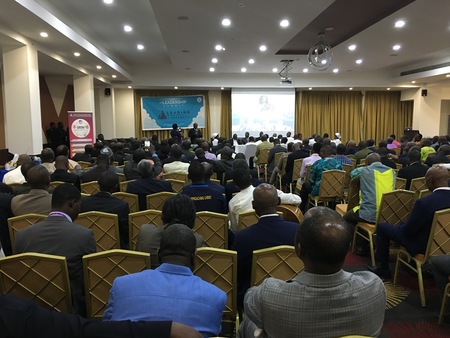 [Photo - Ps. Koch]

The President of the West Central Africa Division, WAD, of the Seventh-day Adventist Church, Pr. Elie Weick Dido has urged Church Officers from the 10 Union Conferences and Missions within the Division to foster unity despite the socio-cultural diversity that exist within the church.
Addressing over 250 delegates drawn from 22 countries at the Division's 2nd leadership summit held in Accra from February 19-21, 2019, Pr. Dido stressed that leadership is about having vision, anticipating changes and getting others equipped to face the future.
The purpose of the meeting was to address challenges that arise as a result of the diversity that exist within the church body. The three day event which is under the theme, " Leading in the midst of adversity," discussed topics such as, " Challenges of Secularism in the Church" , " Dealing with diversities and differences" and " Evangelism in the midst of adversity: Challenges and Opportunities."
On his part, the President of the Northern Ghana Union Mission, Pr. Dr. Kwame Boakye Kwanin, was hopeful that the lessons and experiences gained from the conference would help resolve conflicts that may arise within his ethnically diverse territory.
Nana Agyeman/Solace Asafo