MOBILIZING STUDENTS FOR GOSPEL OUTREACH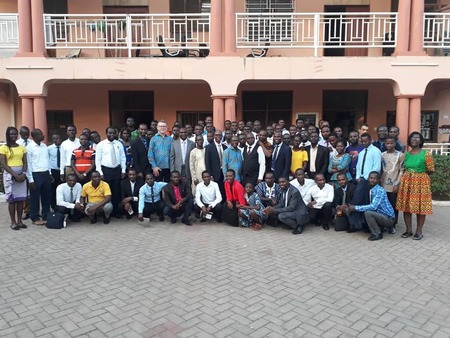 [Photo: Family picture]
Preparation for Student Literature Evangelism recruitment takes average of six to twelve months due to the busy schedule of University calendar. Once a date is secured for the program, then mobilization of all stake holders begins.
Valley View University Literature Evangelism recruitment for 2019 began on February 28 through March 3, 2019. Various activities that were accomplished during the period include training, gifts and awards, open house sales, free health screening, sermons and promotions, and dinner party.
The University administration overwhelmingly supported the weekly exercise. Sabbath was dedicated for the celebration of previous years summer canvassing. The University Vice Chancellor was represented by Dr. Akuoko-Nyantakyi O. during the celebration and many other University officials were present as well.
 The presence of the Publishing Houses further brought encouragement to the students. Stanborough Press and Editorial Safeliz made presentations on how the students can successfully market their products. Prof. Frank Hasel (of BRI) was proud to identify with us. He also made a presentation. Southern Ghana Union Conference and Northern Ghana Union Mission Publishing Ministry Directors were on ground to receive the students for 2019 Summer Canvassing. The Southern Ghana Union Conference Assistant Publishing Ministry Director, Pastor Michael Lowas was an important arrow head for the success of 2019 recruitment on Valley View Campus. He also mobilized some full time Literature Evangelists to support the recruitment in the field practicum.
 Special appreciation goes to all who contributed to the success of the recruitment exercise.  As the saints of God pray for ninety students that were recruited, we believe God will bless them with souls for the kingdom as well as scholarship to continue with their education. 
Ps. Obaya