Cameroon: ADRA helping orphans
KRIBI - CAMEROON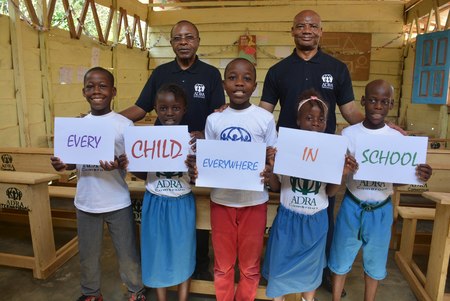 [Photo - Nton Armand: A view of a classroom well equipped with school benches donated by ADRA Cameroon.]
ADRA helping orphans
A drilling, some benches and a staple valued at $ 32,000 (nearly 17 million FCFA) were donated to the Children's Hope orphanage on March 20, 2019 in Bilolo, a village of Kribi, a seaside city.
The ceremony of handing over these donations brought together the administrative and traditional authorities as well as the people of the district of Kribi 2. The orphans will not be the only beneficiaries of these donations that ADRA Cameroon makes. The whole village will finally be able to drink pure water from the drilling. Mrs. Ndengue, promoter of this orphanage recognizes that "access to pure water was a challenge. One has to walk 7 to 8 kilometers before getting water." This drilling has thus put an end to many years of difficulties. Joy could be seen on the faces as pearls of the precious liquid comes out of the new pump!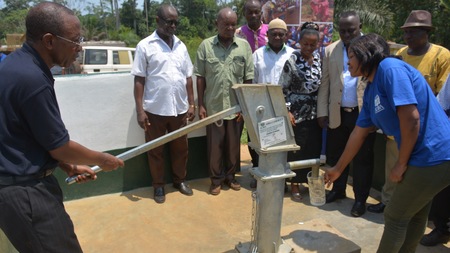 [Photo - Nton Armand: ADRA helped the school and the village get clean drinkable water.]
Benches were made available for the nursery and primary school of "Children's Hope School", which opened in 2018. This school was originally created to house the orphans, but other children from the village also registered. With 35 students, this young school received benches from ADRA Cameroon that naturally adheres to the petition launched at the global level: "Every child, everywhere, at school". For, according to a 2018 UNESCO study, nearly 262 million children around the world do not have access to school.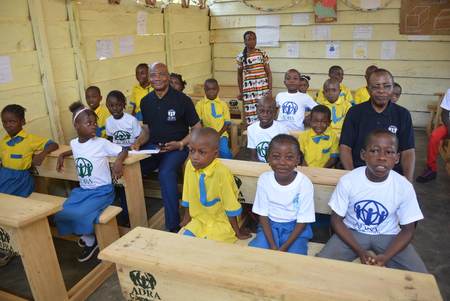 [Photo - Nton Armand: A view of a classroom well equipped with school benches donated by ADRA Cameroon.]
The head of social affairs of Kribi 2 praised the action: "This great gesture of ADRA Cameroon deserves to be commended because it comes to give much weight to the often unspeakable efforts of the leaders of this orphanage. Do not stop, keep on doing good. "
And to reassure everyone, the director of ADRA Cameroon, Pierre Celestin Mutarambirwa explains that "it is a gesture that opens a partnership between the orphanage and ADRA Cameroon." The President of the Adventist Church in Cameroon, Pastor Assembe Valère prayed asking God to bless the orphans, the population of the city and the country. Life changes when we take care of these little ones.
Abraham BAKARI