Special Day of Adventist World Radio.

[Photo: delivery of pins to AWR volunteers]

The Division celebrates the Adventist World Radio special Day at the Seventh-day Adventist Church, Marcory, Temple Zion.
Like other Divisions around the world, the West-Central Africa Division  celebrated the Adventist World Radio special day on Saturday, March 3, 2019 in all her unions. This day was chosen by the World Church to stress on the importance of spreading the message of salvation through the radio.
Grabbing this opportunity pastors Koch Irineo and Araujo Gilberto preached respectively in the churches of Marcory-Sion and Bethel inviting their congregations to give more interest to AWR and invite their friends to listen to it. The Churches of Koumassi-Ajavon and II Plateaux were visited by brothers Ouattara Hyacinthe and Gustave Beugré of the Department of Communication who introduced Church members to the benefits of Adventist World Radio programs.
The afternoon of this Sabbath was dedicated to the presentation of pines to volunteers at AWR, Pastor Salomon Tanoh, Elders Assé Agustín and Serge Zézé and to sisters Acka Nassata and Stéphanie. The new leaders of the Côte d'Ivoire Conference use the opportunity to pay tribute to Brother Guédéba Martin who has been the Director of Communication of the Conference of Côte d'Ivoire for 12 consecutive years.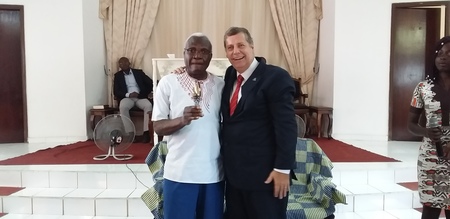 [Photo:Guédéba Martin and Pastor Koch Irineo]
Attended this ceremony, Pastor Thio Tigué Narcisse, President of the Conference of the Seventh-day Adventist Church in Côte d'Ivoire, the Executive Secretary Pastor Badjo and some Districts pastors, Pastor Koch Irineo, Com./PARL Director, WAD  and of course, church members from the six districts of Abidjan.
WAD Editors.