Cameroon: Thirty years of quality education
ADVENTIST COLLEGE OF YAOUNDE (CAY)
Thirty years of quality education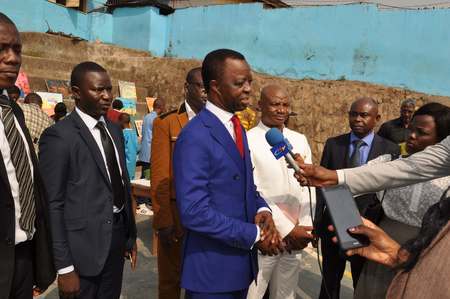 [Nkodo Dang (in blue) responds to Media]
   The institution celebrated this anniversary from 17 to 20 December 2018. As sponsor of the event, Mr. Nkodo Dang Roger, one of the pioneers of the faculty and current President of the Pan-African Parliament.
   Many influential dignities in the political and economic sector made their way into this college either as teachers or as students. It is as a pioneer trainer that Nkodo Dang Roger, President of the Pan-African Parliament sponsored the festivities this thirtieth anniversary. It was a tribute to the actors of the early hours including Pokam Ambroise, Michel Ikito, Eone Emile, Paul Wonje, Daniel Meguille, Agabus Bello, Bobodé Jesse, and many others. Thus, the new generation could maintain the zeal of the first love to meet the challenges of modernizing the framework and supply.
   The Adventist College of Yaoundé opened its doors in September 1988. This institution owes its days to the divine providence that communicated the vision to a leader: Pastor Roland Joachim, then president of the Central Africa Union Mission. The very first principal, Jean Bikanda, through the support of a devoted and dedicated youth to God, laid the foundations of what is today the pride of the Adventist Church in Cameroon. The current principal Mbana Marin "dreams of a modern campus with modern facilities and infrastructure".
   Starting from just a hundred students, this college today has more than three thousand students. It has helped to create three other colleges: a bilingual school complex in a residential district of Yaoundé in Odza; another to Foumbot and the third one in Douala with the contribution of Odza College. The CAY is still carrying many other projects, including the creation of an annex in Ba'aba, on the outskirts of Yaoundé.
Abraham BAKARI