Cameroon: Adventist Youth impacts their communities.
CAMEROON: Adventist Youth impacts their communities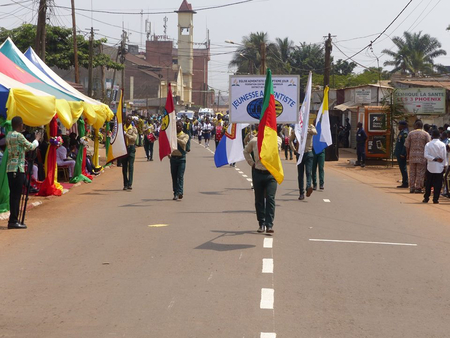 [Photo: The Adventist Youth  during the parade of February 11, 2019 in Yaounde]
     More than 10,000 young people took part in the festivities of the 53rd National Youth Day in Cameroon. It was February 11, 2019.
    The movement of young Adventists in Cameroon has deployed to impact their respective communities. In Yaoundé, they invested the "village of citizenship" alongside the radio "It is written". The Minister of Youth and Civic Education decided to visit the Adventist Radio stand and congratulated the young people who were leading the event. Sermons on unity and peace, quality Christian music filled the air of the esplanade of the National Museum, which housed the Youth Fair in Yaoundé. All this took place from February 1 to 11, 2019.
     Young Adventists in Dang even received the Best Parade Award in the city of Ngaoundere. The authorities can no longer do without the dynamism of Adventist youth. And every year this youth illustrates herself in a very beautiful way. The eyes are now turned towards World Youth Day. While it is true that prisons will receive the charity visit for the 2019 edition, it is also urgent to provide support to the internally displaced in the Anglophone crisis that has shaken Cameroon for two years.
    Indeed, efforts are being made to provide spiritual, material and logistical assistance to displaced persons in the North-West and South-West regions of Cameroon. Armed secessionists clash with national defense and security forces forcing separation between Anglophones and Francophones. And whole villages are emptied of their inhabitants. To all those displaced, the youth wants to bring a message of hope and peace.
Abraham BAKARI