Successful cooperation with a German high school.
ADVENTIST COLLEGE OF YAOUNDE (CAY)
Successful cooperation with a German high school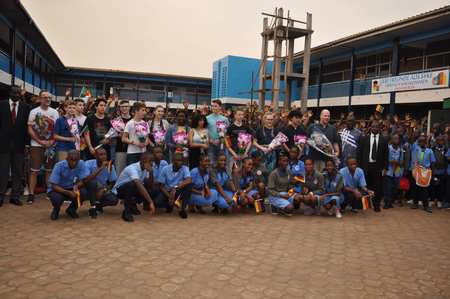 [Photo: Family Picture of the German Delegation with Adventist College staff and students 1]
Students from Syke German High School stayed under the soft equatorial sky of Yaoundé alongside their CAY friends. From February 1 to 18, 2019, they had time to discover the cultural richness of Africa.
It has become a tradition to welcome German students every year to the CAY campus. And Syke High School in Germany welcomes also CAY students on their campus. This year, for the fifth reception, fifteen guests (thirteen students and two supervisors) came to appreciate the richness of the cultural diversity of Cameroon. Host students delivered traditional dance performances, representing life in the traditional chiefdoms of the West and North, North-West and South-West Cameroon. The culinary art, musical and artisanal art were demonstrated to the guests.
This year, as in all previous years, the German delegation came with donations to Yaoundé Adventist College and to needy people targeted in the outskirts of the city. After the rich cultural demonstration under the captive eyes of visitors, several outings and touristic visits took place.
Pupils and their supervisors return to Syke with plenty of gifts and souvenirs from Yaoundé Adventist College. This cooperation also witnessed in August 2018, the fifth visit of twelve students and one of their supervisors in Germany. It is now left to members of the Adventist College of Yaoundé to visit Syke.
Abraham BAKARI