ADVENTIST PASTOR LAUNCHES APP FOR EVANGELISM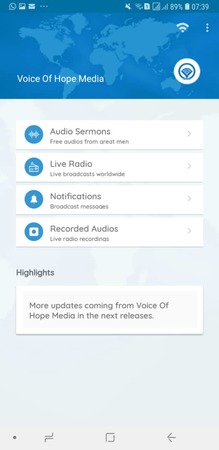 [Photo: App]

An Android Internet application to increase listenership of audio gospel messages has been launched by the Voice of Hope (VOH) Media Ministry in Accra on October 13, 2018 at the Dayspring Adventist Church.
The Voice of Hope Media App, is a user-friendly App that brings together the WhatsApp and Internet radio platforms of Ministry.
Pastor Isaac Apaw, a speaker of the Voice of Hope Ministries and Director of the media ministry of the Pioneer Ghana Conference, said the App was developed to enable the Ministry reach many more listeners globally.
"The App is an important tool to reach people all over the world and it's available on Play store. This ministry started as a radio programme, then we added the broadcast of short messages on WhatsApp, and an online radio. Many people have been baptized as a result. The App is a consolidation of all three platforms," Pastor Apaw said.
Launching the App, the Director for International Development, Elder Joe Sloan said, social media is where you will find a lot of people today, and it was refreshing to see that the Voice of Hope Ministry is taking to gospel to people where they can be found.
"I pray that this App will become a personal pastor for listeners in Ghana and globally, a source they can turn to in time of sorrow and joy."
Commenting on the App, the Communication Director for the Southern Ghana Union, Ms. Solace Asafo said the App was timely and a cost effective means of reaching many people for Christ.
"Social media is the way to go as Ghana's mobile phone usage is set to hit a record 40 million for a country with less than 30 million people. Additionally, there are over 10 million Internet users in Ghana and this offers great opportunity for the Ministry and the gospel work.
Anyone who downloads the app will find pre-recorded audio sermons by various speakers, Bible study materials as well as devotions by renowned speakers like Pastor Andrews Ewoo, Dr. Samuel Pipim, Pastor Randy Skeete, and Pastor Isaac Apaw among others. The App also hosts a 24hour live Internet Radio Broadcast.
The Voice of Hope Media ministries was established 10years ago by a group of young men to use new media to reach the world.
Solace Asafo-
Southern Ghana Union Conference